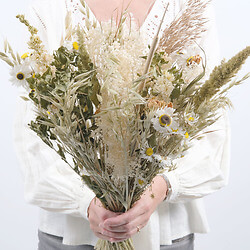 This bouquet of natural dried flowers is very soft and imagined in clear and sober shades. It will be the key piece for chic interiors dreaming of a little plant touch.
Our dried flowers are rigorously selected to last over time. This trendy and original gift will be appreciated for its bohemian side and its eco-responsible approach. Delivered in a custom-made cardboard box and carefully wrapped in kraft paper, the flowers will be protected during transport.

Size: 55cm
Care instructions: Place the flowers in a pretty vase and do not leave them in direct sunlight.
48,00 CHF