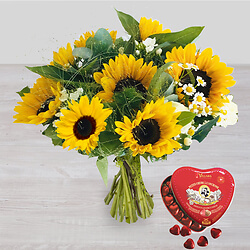 Round bouquet of sunflowers, composed of 35 stems of a height of 45-50 cm and decorated with 7 other flowers and a hint of greenery.

A metallic box filled with little hearts made of 170g Swiss milk chocolate, this exceptional chocolate was elaborated on the basis of an old recipe created by Villars Maîtres Chocolatiers.
Attention that will touch the heart!
67,00 CHF