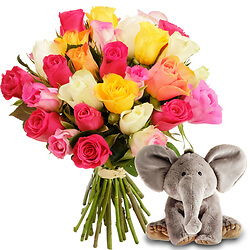 A wonderful bunch about 30 multicoloured roses. This bouquet will be delivered with « Arthur the elephant » made with top quality material.

Roses Fairtrade certified and sourced from Fairtrade producers : www.maxhavelaar.ch
At LesFleurs.ch, we care about the origin of our flowers. We choose our partners meticulously and have made a long term commitment to improving the conditions of the workers at the horticultural farms we buy from.
69,00 CHF