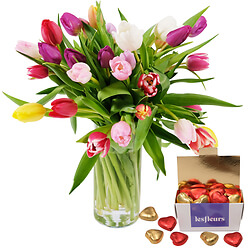 Bouquet of tulips of all colours consisting of about 30 stems with a height between 35 and 40 cm.

To offer or to share, our small box of milk chocolate, made in Switzerland according to the rules of the art, is the ideal gift for a gourmet touch that will accompany your most beautiful attentions with a note of sweetness.

Box containing 130g of chocolate in individual format for a perfect preservation of the taste and flavors of a premium cocoa sublimated in Switzerland.
55,00 CHF