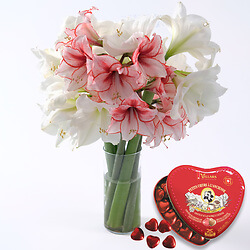 Our florists have composed a stunning bouquet of these two varieties of amaryllis - pure white "Mont Blanc" and bi-coloured white and red "Showmaster". These generous flowers are originally from South America and each stem will bear several flowers.
Boot of 7 stems of about 40-45 cm.

NB: these amaryllis will be delivered closed so they can be enjoyed for as long as possible as they open and flower.

A metallic box filled with little hearts made of 170g Swiss milk chocolate, this exceptional chocolate was elaborated on the basis of an old recipe created by Villars Maîtres Chocolatiers.
Attention that will touch the heart!
61,00 CHF