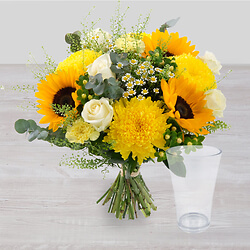 Dieser runde Strauss mit Sommerfarben wird dem Empfänger Freude und Fröhlichkeit bringen. Es misst 45 cm und hat 33 Stiele von vielen Blumensorten, 3 Sonnenblumen,
3 matracaria single vegmo, 5 Avalanche Rosen in weiss, 4 creme hypericum, 4 chpl. Gelber Zembla, 3 Thalaspi, 3 gelbe Nelken, 5 Cinera, 3 Buplurum

This beautiful and stylish vase will sublimate your gift and fit in with any type of décor. Vase's size determined by chosen bouquet.
71,00 CHF