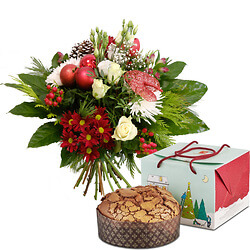 This beautiful round Christmas bouquet is festively decorated and an ideal gift to accompany the magic and the atmosphere of the holidays.

With its unmistakable flavors and aromas, Panettone Glassato reveals a soft and fragrant dough, delicately perfumed with the natural flavor of Madagascar vanilla, enriched by raisins and yummy candied fruit, and topped off by a crunchy hazelnut glaze with toasted whole almonds.

An elegant packaging, finished with a bright ruby red shade, guards this delicious specialty.

Net weight : 1000g.
91,00 CHF