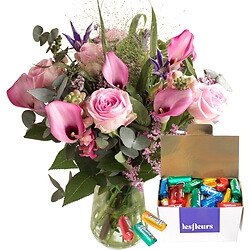 Offer this beautiful seasonal bouquet, composed of pretty roses, calla, snapdragon, agapanthus, sedge and cinera. This bright and refined creation will be the perfect gift! Composed of 35 stems with a height of 40-45 cm

To be offered and savoured without moderation, these delicious pralines wrapped in fine chocolate, made from 100% Swiss milk and filled with nougat and roasted hazelnut chips, will be the perfect accompaniment to your most delicate gestures.

Box containing 200g of chocolate in individual format for a perfect preservation of the taste and flavours of a premium cocoa sublimated in Switzerland.
Available from 28.10.2021
71,50 CHF
Available from 28.10.2021