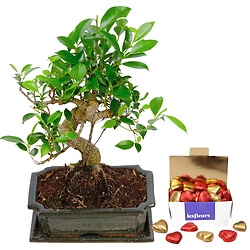 Spoil someone with this exceptional Ficus Bonsai. This miniature tree is a natural work of art and will recreate a veritable zen Japanese garden in your home. It needs plenty of light and should be watered regularly. It will thrive best if kept outside during the summer months, but away from direct sunlight.

To offer or to share, our large box of non-alcoholic milk chocolate, made in Switzerland according to the rules of the art, is the ideal gift for a gourmet touch that will accompany your most beautiful attentions with a note of sweetness.

Box containing 200g of chocolate in individual format for a perfect preservation of the taste and flavors of a premium cocoa sublimated in Switzerland.
75,50 CHF