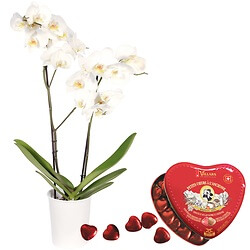 Beautiful and majestic plant, this orchid Phalaenopsis is the perfect gift to bring a touch of refinement and poetry to an interior. Its white color is a symbol of purity and gaiety that will perfectly embody your purest feelings to your recipient. This orchid will be accompanied by its planter for more charm and elegance.

Double stem multi-flowered phalaenopsis
Height including pot: 65 cm

A metallic box filled with little hearts made of 170g Swiss milk chocolate, this exceptional chocolate was elaborated on the basis of an old recipe created by Villars Maîtres Chocolatiers.
Attention that will touch the heart!
62,00 CHF