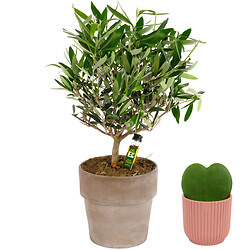 Offer your loved ones a beautiful Mediterranean olive tree in a pot! This beautiful tree is perfect for decoration and adding a touch of elegance to any interior. When placed in a sunny location, this olive tree will remain beautiful all year round, offering a gift that will delight the eyes of your loved ones in any season.

Height: 30-35 cm (including pot)

Offer this lovely Hoya kerrii in its little cache-pot to someone dear to you. This thoughtful gesture will show your appreciation for this person. Hoya kerrii are decorative plants appreciated for their fleshy heart-shaped leaves and are easy to care for. It will bring a touch of greenery and tenderness to any interior.

Spring-Summer: water sparingly, check once a week. Bottom watering is possible (15 minutes in a small bowl).
55,50 CHF