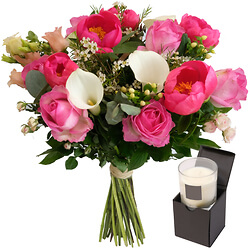 Our colorful bouquet will bring good mood and joy to your recipient.
This beautiful bouquet of 34 stems, height 40-50 cm, is composed of: 7 roses avalanche, 4 spray cream rose twister, 4 calla cream 3 eustoma salmon, 5 peony cherry, 3 waxflower white, 5 hypericum cream, 3 Cinera.

Cette boîte contient une bougie parfumée de 190 g au parfum de « Rose de jardin ». Parfaites pour embaumer tout intérieur d'un doux parfum, ces bougies sont classées «  Eco-responsable  ». En effet, celles-ci sont composées de cire naturelle et élaborées uniquement avec des produits de haute qualité dans un total respect de l'environnement.
68,00 CHF